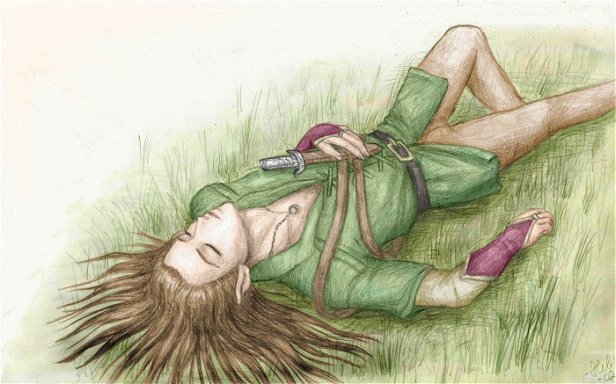 When you're three thousand years old, you need a lot of sleep.  Also, the fabulousness is on full display here, though green is really not my color normally.  (The artwork is by Heli Härkönen, from here.
I'm still playing a lot of Civ V, the new expansion is really fun.  Fun to play, but it never seemed to inspire all that much writing.   But something did inspire me to do more writing.  Actually, two things.
First, SOE did a big unveiling of Everquest Next at Fan Faire this year.  This got my pointy ears twitching.  It sounds really interesting and ambitious.
Second, Psychochild offered to host a WordPress site for TT.  In a somewhat odd coincidence, his current employer Storybricks is playing a key role in Everquest Next.  But it really is a coincidence.  I liked Everquest long before Storybricks was founded, or I ever met Brian.
Nevertheless full disclosure is appropriate.  Brian "Psychochild" Green is providing hosting to me, as a subdomain of psychochild.org, (It also can be reached directly as toldaintalks.com) and he is working on Everquest Next.
But you probably shouldn't have expected me to write screeds about how EQNext sucks in any case.
I'm hoping to do a series of shorter posts about the various aspects of EQ that caught my attention.  But for your homework, here's some videos.  This first is a pretty good, short overview.
And these next two are David Georgeson's presentation at FanFaire.
There are a lot of risks here, so we'll have to see how this all works, but I'm getting excited!