Here's a look at the two characters (and the world in background) used for the Everquest Next preview.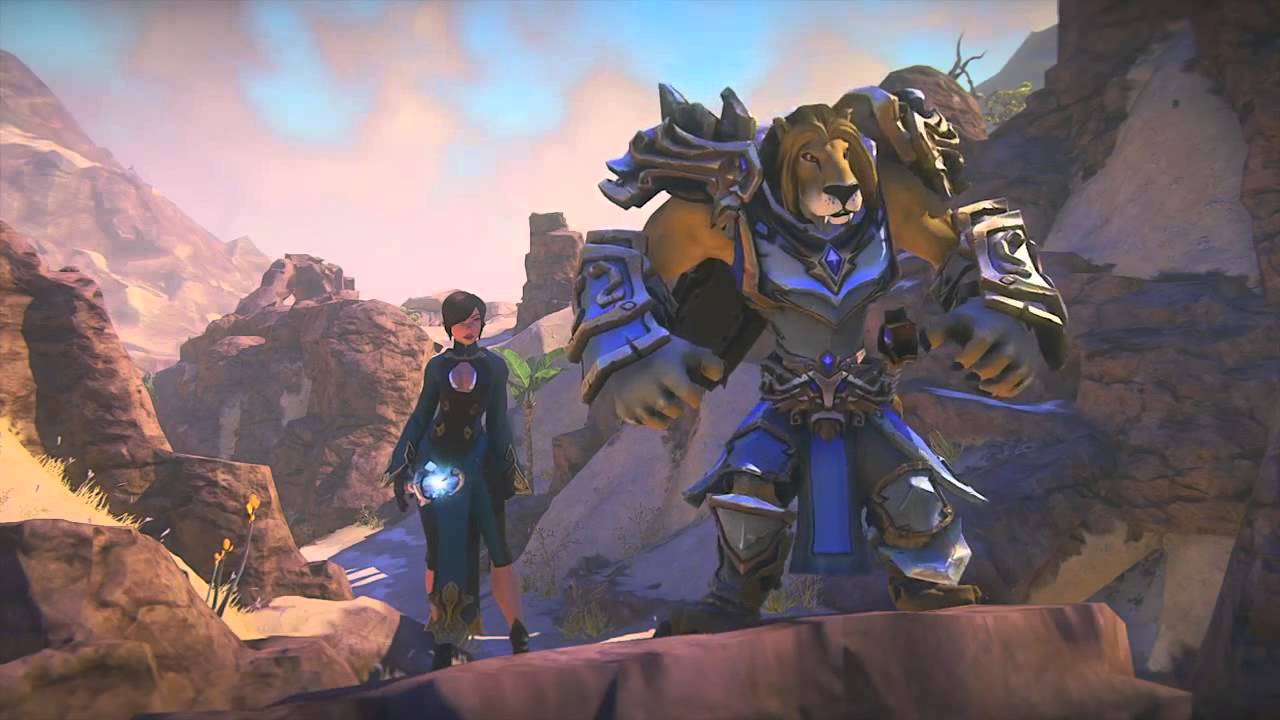 Their names are Jalena, who is a human female who does magic casting thingys, which is all I can call them because, as we shall see, there aren't supposed to be character classes as such. The big one is Kesar, who is a Kerran male, wears armor and he likes getting in the face of bad guys and smashing them. Here's another shot of the two of them. This one comes courtesy of mmosite.com.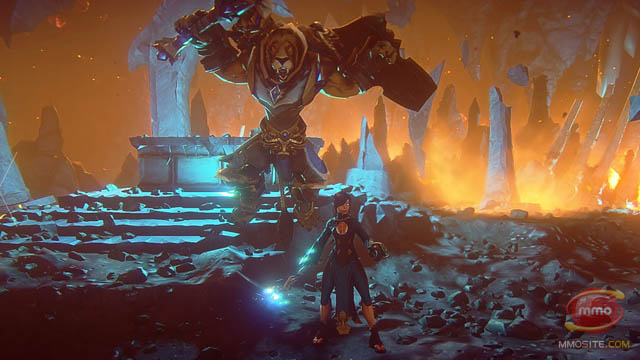 This is a far cry from both Everquest and EQ2. There are several things to note here.
The art style backs off on Everquest 2′s attempt to be "realistic". Lots of aspects of the characters are exaggerated. Kesar's armor is reminiscent of WoW armor. The size difference between human and Kerran is much, much more than it ever used to be. Everything looks just a little bit like it's been painted. I think there's both a practical reason for this and an artistic one.
The practical reason is that, as we discovered with Blizzard, low system requirements mean that more people can play your game, and thus, more people will play your game. Also, the game is going to be free-to-play, though it's far from clear whether "free-to-play" will mean like Guild Wars 2 and DDO, which I like, or like Everquest 2′s FTP model, which I hate. And a more painted-like style allows for lower polygon count, lower res textures, etc. On top of that, computers and graphics cards are much, much more powerful now than at EQ2′s launch.
The artistic reason is drama. For people who want to play someone who's big and strong and wears heavy armor, you have to make them look big and strong and like they are wearing heavy armor. If you were in the same room with someone who was big and strong and wore heavy armor, you would have lots of cues that are missing from a videogame. The armor would creak a little. It would affect how someone moves, even the biggest and strongest. It would affect how their footsteps sound, even when they are sort of standing still. Lots of that sense is lost when you have to look through a glass monitor at the character, so the artists exaggerate other aspects to signal that truth about the character.
Which gets us to Jalena's boob window.
Let's not kid ourselves, SOE is not above providing a little fan service. But of course, this is concerning to any woman who plays the game, who all must be wondering, "Will I be able to wear something that doesn't have a boob window?" I think we are all aware that most women, at some time or another, want to show off a bit, and show some skin. In point of fact, there are some men who want to do that, too. Just how often and how much varies a lot with the individual. But I think the primary concern is "Will I have a choice about how I look?" I sincerely hope so. Guild Wars 2 doesn't always do so well with all races and classes. Some of them have very limited options when it comes to deciding how much skin a female avatar will show.
That said, artists who make figures of women are presented with a problem. I think most people playing a female character want other players to notice that they are female. Just as people playing a male want that to be noticed. There are a few races in a few games where the difference is subtle (Lizardmen come to mind, just as in RL). And that's a thing too. Sometimes we have people in the mundane world who don't want to present either male or female but something else They might want you to use the pronouns "they" and "them". The key is that they want you to recognize what they perceive about themselves. They want to signal their gender.
And like with being big and strong, a lot of gender signals get dropped on the floor when you are dealing with a virtual world character. Pheremones, to pick one. The subtle differences in posture and mannerism, too. I've observed this in miniatures for a long time. When you are dealing with a figure an inch high, if you give it accurate proportions, the gender signal becomes drowned out. And so they get exaggerated.
Now historically, most sculptors and artists have been male, and have focused on two or three physical characteristics to signal gender: breast size, hip width, and length of legs. The length of legs thing is odd, since it isn't a gender signal in the real world at all. Women do not have proportionally longer legs than men, as far as I know. But women often, as a fashion choice, do things to make their legs appear longer. Things like wearing heels, and wearing things that draw attention to the line of the legs.
But there are other ways to signal gender. The cat race of Guild Wars 2, the Charr, uses very unorthodox methods to signal gender. The rumor goes that the lead designer refused to put breasts on female Charr, noting that if they forced her, she would put six of them on, since that's how it works for cats. Nevertheless, there are gender-signalling differences, just not the normal ones.
Back to Everquest Next, one other signal seen in the character design above is size. We think of men as being larger than women, and in a statistical sense, this is true. The largest humans on the planet are, by and, um, large, male. But the smallest humans? Not necessarily female. And there is considerable overlap. Mmos have actually given a lot of scope for men to express this variability. You could be a giant barbarian or a tiny gnome, or a sturdy dwarf or a slender half-elf. (Also, you could be an elf with a keen sense of fashion and fabulous red hair, but I digress.)
So costumers and character designers of Everquest Next please give people a choice about how they look in the game. Players are not scenery. In many ways, this game appears to be granting far more agency to players than we have seen in MMO's before, don't neglect the agency of people playing female toons.